Did you know that board games have existed for over 5,500 years? Although they have experienced amazing design changes over the years, Kickstarter is a game changer for board game designers. The crowdfunding platform helps designers bring creative ideas to life, creating an opportunity to overcome financial difficulties.
But how does Kickstarter board games help designers, and why should they choose it? This article explores the power of Kickstarter and its many advantages for board game designers.
Provides Funding Opportunity
If you're a board game developer, you know how difficult it is to raise funds that'll see your design go through production to the manufacturing level. Similar challenges are experienced in game marketing especially if you don't are new in the industry. Luckily, Kickstarter has what it takes to see you succeed.
By embracing Kickstarter, you're connected to hundreds of designers with many backers supporting innovative game projects. With such connections, you get upfront funds for your project, overcoming financial challenges that might have blocked your vision.
Are you aware that Kickstarter has a unique pre-order system where game developers can secure sales before producing it? Using this pre-order mechanism, you get an idea of how many copies are needed and estimate the total revenue you'll generate. As such, you can avoid excess or lower production that might otherwise affect your finances.
Community Building
Regardless of how great your board game designs look, you need a relevant community to reach a broad market. Kickstarter brings together an enthusiastic and supportive audience, ideal for experienced and new designers. Once you start a campaign, backers from the audience will not notice you.
Besides financial assistance, the audience will provide necessary feedback and suggestions until you're through with the game development. You can refine the game with this feedback, ensuring it meets your community preferences. Also, you can address potential issues creating an enjoyable and engaging product.
Showcasing your game over this platform helps generate a buzz and attraction around the project. In addition, most influencers, reviewers, and media outlets who scour Kickstarter looking for promising games will find you. This will create exposure and help the game get wider recognition.
Gives You Market Validation
Before you commit all your resources and time to invest in a board game, you must understand how the market works. Does your new board game have the potential? With Kickstarter, you get all the invaluable tools that offer market validation.
Considering that the platform has an active audience and potential backers, you'll learn the game's performance by the type of reception you receive. Are they pre-ordering your game, and are you getting pledges from backers? If you're experiencing this, it clearly indicates that the game has a potential market.
Armed with positive validation, you'll learn to focus more on your design. You'll also have clear decisions on your game viability.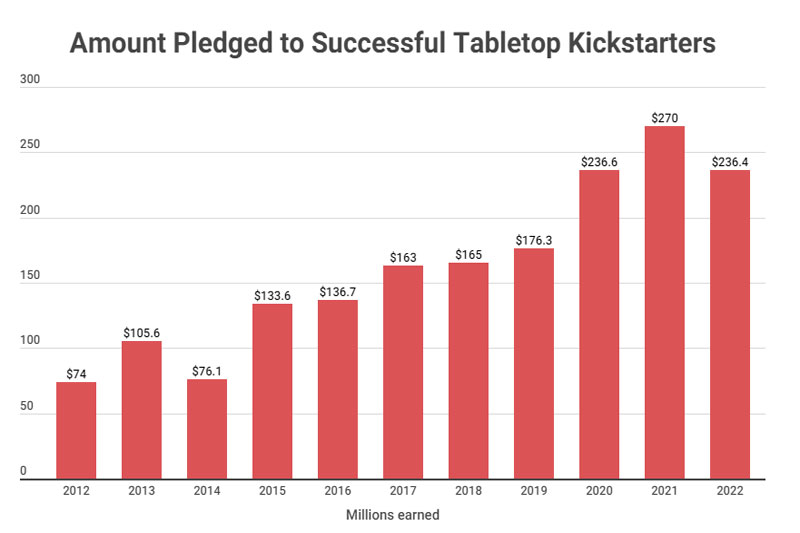 Our Practices for Successful Kickstarter Board Games Campaign
Running a successful Kickstarter campaign shouldn't be difficult for your board game design. Here are some of the best practices that you should follow:
Come Up With an Idea that Sells
Your board game design should be compelling, unique, and valuable to potential backers. Market research before starting the campaign will help you know whether there's demand for your project. You must highlight the design benefits and key selling points to win your backers.
Once you get backers, maintain regular communication through the campaign. Keep them updated on your progress, respond to their messages as soon as you can, and learn to address their concerns promptly. As such, you will build a good rapport and gain their trust.
Developing a funding goal is another step that helps backers know what they are funding and how much it will cost them. Calculate your project cost and come up with funding requirements. Your funding goal must have production costs, shipping, unforeseen, and marketing costs.
Offer Rewards
Rewarding your backers and other supporters with relevant and attractive rewards is a strategic way of incentivizing them. Give early access, personalized items, exclusive perks and limited editions at different pledge levels. The rewards should be realistic and achievable before the project's completion.
Set Deadlines and Remain Professional
Maintaining professionalism while using the Kickstarter platform is crucial to a successful board game campaign. Make sure that the provided deadlines and reward dates are realistic. You don't want to lose your credibility or your backer's confidence. If you realize there are delays and might not deliver in the given time, communicate the reasons for the delay early.
Embark on a Strong Marketing Campaign
Your Kickstarter board games campaign needs your input to become successful. Devote your time and utilize different social media platforms to market the game. Your marketing plan should include the pre-launch campaign to attract backers and create awareness. To achieve this, create engaging content and reach out to relevant media outlets.
Start by designing an appealing Kickstarter page with information explaining everything about the project. Make use of high-quality videos, images, and descriptions to attract backers. The benefits of the project should be indicated to create interest.
Handle the Setbacks Clearly
It's no secret that you'll encounter different challenges when the project is ongoing. However, you shouldn't hide it from your backers if you want to maintain them. Be honest with them and provide explanations in case it happens.
Look for solutions and alternatives and keep the backers in the loop. Regular updates will enhance their trust and might help build more confidence in them.
In Summary
For board game creators, Kickstarter has completely changed the game's rules. It provides a potent platform that serves both novice and seasoned designers. Additionally, it creates the ideal ecosystem for transforming fantastical ideas into thriving board game realities.
Game designers can overcome financial obstacles by utilizing Kickstarter's incredible potential and following industry best practices. It improves their games with priceless early feedback and brings their original creative visions to vibrant life. Kickstarter board games offer designers the tools to share their enthusiasm and turn their ideas for board games into reality.